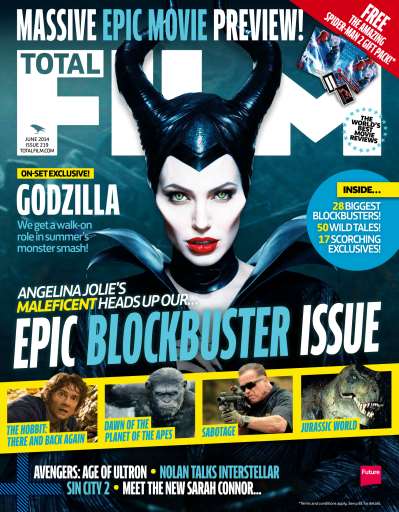 These are the four magazines I will be looking into in order to decide which one I would like to use for my film. I chose these as I liked the different layouts each magazine portrays, and how different some of them look.
Total Film
is a UK-based
film magazine which is
published monthly and a summer issue is added every year, by Future Publishing.The magazine was launched in 1997 and offers cinema, DVD and Blu-ray news, reviews and features. Total Film is available as a print magazine, but also available to mobile devices to download.
Total Film tends to use action/thriller films on the front cover of their magazine, usually portraying the main character/characters. I feel my film would suit this magazine due to its genre.
Entertainment Weekly is an American magazine, published by Time Inc., that covers film, television, music, B theatre, books and pop culture. Entertainment Weekly targets a more general audience rather than a smaller more specific readers, broadening it's audience.
This magazine covers many different platforms of entertainment, especially TV series/shows. I feel this may be less suited for my magazine as my project is a horror film and may not be advertised as well in a magazine that has such a broad amount of content.
Empire is a British film magazine published monthly by Bauer Consumer Media. Bauer purchased Emap Consumer Media in early 2008. It is the biggest selling film magazine in the United Kingdom and is also published in the United States, Australia, Turkey, Russia, Italy and Portugal. Empire organises the annual Empire Awards and the awards are voted for by readers of the magazine.
Empire focuses on films, and mainly uses action/thriller films as their front covers. I think this magazine may be suitable for my horror film as the genre fits very well and I also really like the layouts that this film magazine uses.
Little White Lies is an internationally distributed movie magazine. It is published by London-based media company TCOLondon.
I like how unique this magazine is, and how it makes photographs into drawings. This magazine is very different, however I don't feel it would suit my magazine as it is a horror film, and this magazine rarely uses a horror film as its front cover.